Vaccination Centre Pune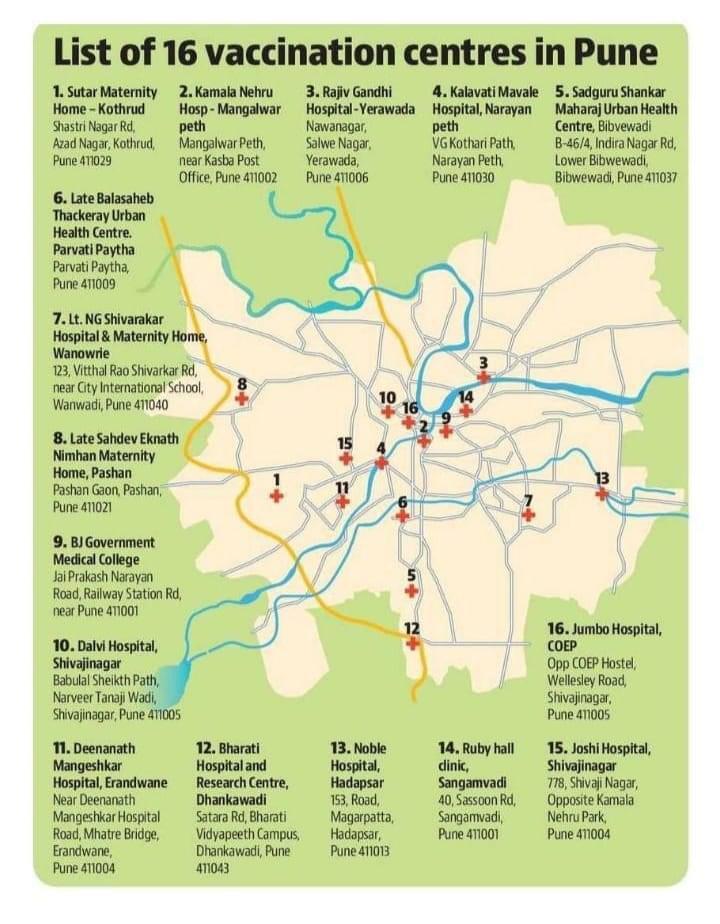 Prof. Dr. Sanjay B Chordiya, Founder President & Chairman of Suryadatta Group of Institutes, felicitated with Swami Vivekanand National Award 2020, for exemplary contribution in Education field and he is awarded in the category of Best Educationists. This award was given by Shakti Helping Hand & Help India Online in Association with Shakti Film Productions. This award was given at the hands of Ambalika Shastri, Founder & President Shakti Film Production's and Rinku Singh Gurjar, Managing Director, Shakti Film Production's.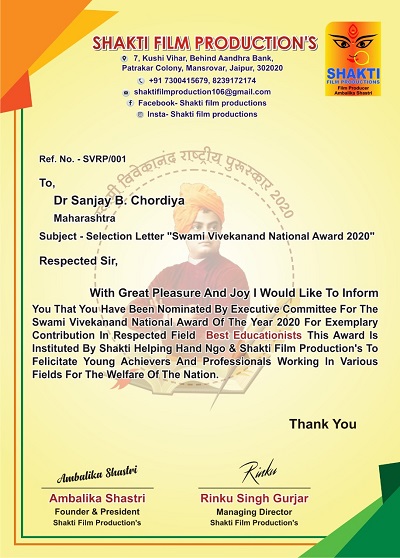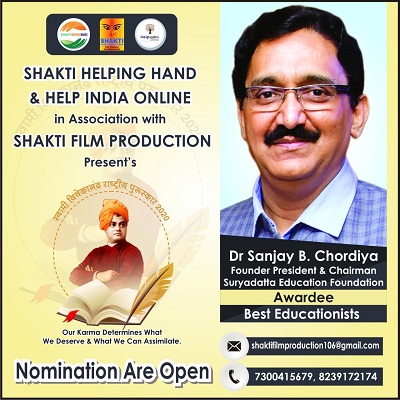 Summer Youth Summit 2017 at Suryadatta Group of Institutes Bavdhan, Pune for more details click here..

---
 Suryadatta Student bags first rank to SP Pune University in PGDMLM Course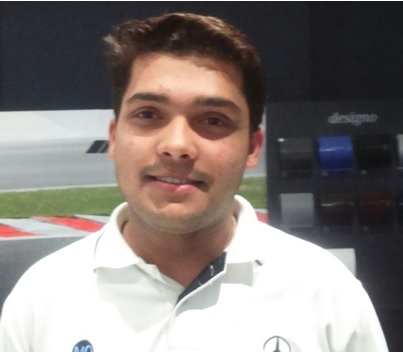 Mr.Ameya Patil a student of second semester of  Post Graduate Diploma in Material and Logistics Management (PGDMLM) at Suryadatta Institute of Management and Information Research (SIMIR), Pune has stood first to Savitribai Phule Pune University. The results were declared on 8th July, 2016.
Mr.Ameya Patil  has expressed his gratitude to the Suryadatta Group of Institutes in general and to Dr.Sanjay Chordiya, Founder Chairman in particular.  Mr.Ameya Patil  has acknowledged the contribution and guidance of all the faulty members in his success. He has thanked Prof.Shantilal Hajeri for his guidance in the Summer Internship Project on the topic "Supply Chain Management at Mercedes Benz'.
Dr.Sanjay Chordiya, Founder Chairman of  Suryadatta Group of Institutes,  on behalf of all the employees has congratulated Mr.Ameya Patil  on his splendid success.
Mr.Ameya Patil   is working as an Engineer at a renowned company Mercedes Benz. 
---
Honoured with Recipient of Best Management Institute in Maharashtra at ASSOCHAM National Excellence Award - 2016 ceremony at the hands of Prof. Dr Ram Shankar Katheria Hon'ble Minister of State for Human Resource Development Govt of India ( Higher Education )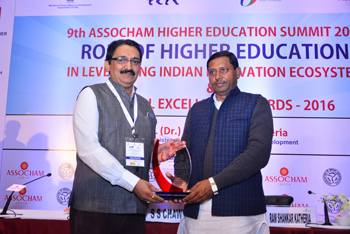 Updated On : 17 Feb 2016

Ranked in Top 9 Institutes in western region – for Emerging Management Institutes by Survey conducted by AICTE-CII for Industry Linked Technical Institutes 2015


The results of AICTE–CII Survey of Industry-Linked Technical Institutes 2015 announced recently. Suryadatta Institute of Management and Mass Communication have been categorized in PLATINUM category - one of the only 15 among 163 emerging Management Institutes participated in 2015 Survey). A total of 128 well established Management Institutes participated in this year's survey. The parameters considered included – Curriculum, Faculty, Governance, Infrastructure, Placements and Services/Project Skills. As per the National level categorization of institutes based on their objective scored achieved, Management Institutes are grouped into three separate categories i.e. Platinum, Gold and Silver. The Report reveals that Platinum institutes are involved with industry through curriculum, particularly through industrial visits for students. A significant number of faculties have received training from industry in Platinum category institutes while no such faculty-industry interaction was seen in Silver category institutes. Further, Platinum category institutes are far more likely to receive funding from industry towards the cost of their centres and units. Platinum institutes are also far more likely to involve industry in their Board of Governors or Advisory Councils and to report placement success for their students. Prof. Dr . Sanjay B Chordiya , Founder , President & Chairman of Suryadatta Group Of Institutes, Pune told that This achievement was possible due to the active support and involvement of all Faculties, Staff and Stakeholders of the Institute.
---
All students of Final Year / Final Semester
This is to inform all the final year/ final semester students that they must collect all their Original Certificates / all relevant documents before completion of their course without having any dues pending to pay. As regards to the students who have to collect their Course certificate / Degree / Diploma certificate, kindly ensure that you collect the same within 6 months from the date of completion of your course. Also kindly note that the College/Institute will not be responsible and liable to store/keep your certificates and documents after the above prescribed period.  In case any student does not collect the certificates and documents within the above period and in case of any loss / misplacement of documents, it will be at your own risk.  Institute will not be held responsible for any loss / damage of your certificates / documents after the prescribed period.