Suryadatta Group Institutes and Global IT Commune jointly organized National IT Conference on 27th Feb 2016 at SGI Bavdhan, Pune"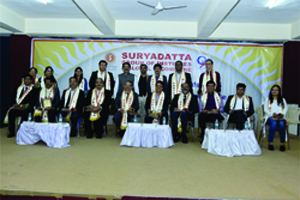 To focus on emerging trends in Software Engineering and Technology, Suryadatta Group of Institute (SGI) and Global IT Commune (GIC) had jointly organized a National IT Conference recently. On the occasion, Suryadatta has conferred IT Excellence Award 2016 to 19 renowned IT professionals from various IT sectors/ companies for their immense contribution in the field of IT.
'The annual conference was organized with a main motto to bridge the gap between academia and industry and keep student managers and future IT Professionals to align with the fast changing technical landscape', informed >Prof. Dr. Sanjay B. Chordiya, Chairman, Suryadatta Education Foundation, Pune.
Present on the occasion were Chief Guest Maninder Singh Bitta, Chairman, All India Anti Terrorism Front along with bigwig of IT Industry Prasad Deore, Director Nasscom; Dr. Shankar Ramamoorthy, Director, Amdocs; Rajneesh Malviya, AVP -Infosys & Centre Head ( Pune DC); Shailendra Jha, vice-president, Cap Gemini; Sanjeeb Kumar Patjoshi, IPS, ADG, & Director Vamnicom; Sunil Avhad, Director, Igate; Anant Varade, Sr. VP & Head, Enterprise Services, Dr. Sharat Airani, Director, Intellinet; Poonam Jain, Manager, Tieto Software Technologies Ltd.
Bitta expressed his concern over how terrorists and people with criminal mindset are using social media to create cyber war as a new mean to spread hatred and discontentment amongst gullible people. Instead of reacting sharply or getting carried away by such content, every person should use their own senses to judge the things. He further said that there is an urgent need to understand the latest technologies to curb the menace. Along with the military people, civilians are equally responsible for overcoming terrorism, he added.
More than 400 students, 50 IT Professionals, 50 Faculty and staff members attended the conference.
---
Art of Blissful Living - FDP conducted by Oshodhara at Suryadatta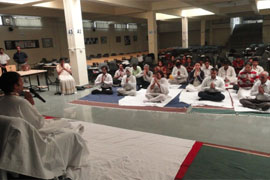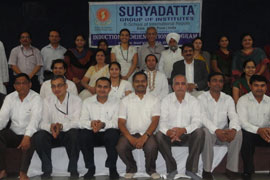 Suryadatta espouses the firm belief that a genius is not born but created, so long as the right conducive environment is nurtured. In keeping with this belief, Faculty Development Programs are conducted for the faculty to unleash their latent talents and to inspire them in recognizing, tapping as well as utilizing their full potential.

Suryadatta Group of Institutes recently organized a Faculty Development Program "Art of Blissful Living" conducted by Oshodhara. The program was conducted by Swami KundKundji on behalf of "OSHO". It was assisted by Mrs. Bora and her son Mr.Vishal Bora from Kolhapur.

Prof Dr. Sanjay B Chordiya inaugurated the programme and welcomed the esteemed speakers. This week long program highlighted several methods of blissful living and essentially covered various aspects of "Anand Pragya" and "Samadhi Pragya"

Anand Pragya encompassed the basics of blissful living through the eightfold path of Lord Buddha. The main topics covered included positive thinking, Anger management, Right Action, Right living and right commitment. The practical sessions of Dhyan and meditation and experience sharing session were very beneficial.

Samadhi Pragya covered various forms of yoga and its practical application. Some of the participants gave a commitment to adopt yoga Panch Vrata including non-violence, vegetarianism, non-proliferation in the future.

The overall contents of the programme were highly absorbing and definitely beneficial to all the faculty members. The contents will definitely help in achieving the individual goals of the participants as well as the organizational goals. The event enabled spiritual development of all the participants.


---
Prof. Dr. Sanjay B. Chordiya participation in 7th Sakal Educon - Annual Conference on Higher Education at Dubai, From 16th to 19th September, 2011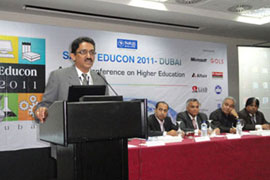 Sakal Media Group organized EDUCON in Dubai from 16th to 19th September, 2011. Prof. Dr. Sanjay B. Chordiya – Founder President and Chairman- Suryadatta Group of Institutes participated in the same.

The audience for the Educon was a propitious mix of policy makers and implementing authorities such as Vice Chancellors of Universities, Directors of leading institutions, Heads of deemed Universities, leading Industry professionals.

The highlights of this annual conference was - Interaction with Dubai Education Cluster, Interaction between High Profile Educationists and Industry Delegates, and Interaction with key Policy makers from India.

It was based on a theme of Innovative Practices in Universities: The road map for inclusive growth of the nation. During the conference the following topics were essentially included-
Involvement of Stake Holders in building up University Syllabus.
Policy making by involving Stake Holders.
Quality Vs Quantity of students and faculties : How to strike a balance.
Employability Quotient of our student product.
Integration of skill development and vocational; Education in collegiate stream.
Integrated Vocational and technical education.
Encouraging and rewarding self-research / patenting / copy rights / Inventions for new generation scientists and researchers.
Models of PPP in the sector of Higher Education.
The event was placed in the context of today's prevalent realities. We live today in knowledge age. The world is split into a bipolar existence according to the digital divide. Success in any field presupposes a very good grasp of the various aspects & applications of technology. EDUCON 2011 was all about exploring new horizons of academic brilliance in the knowledge age.

The conference was held in nine sessions with Union human resources development minister Kapil Sibbal and Bharat Forge chairman and managing director Baba Kalyani holding an interaction with participating vice chancellors (VCs) during the first session.

Prof. Dr. Sanjay B Chordiya also chaired a session which had prominent speakers.

It was a readymade platform for direct communication with tremendous impact with a focused niche and very powerful audience. The platform provided enormous opportunities to enforce views in the collective conscious of all the people who matter in one shot!


---
Life is the biggest teacher Suryadatta celebrates teachers Week in a unique way to develop good ci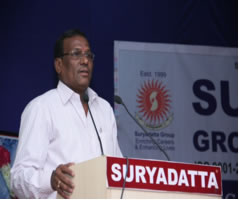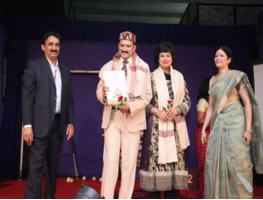 Speakers invited
Mr. Prakash Dhayarkar, Topic : Memory Development & Psycho Neurobics..
Shri Raghunath Medge & Shri G..Talekar of Mumbai Dabbawala Association
Dr. Deepak Shikarpur – Eminent IT Expert, Global Opportunities for Management & IT students
Magsaysay Award Recipient Dr. Rajendra Singh ji, Topic :  "Save Water Save Nation"
Chak- De Fame Mr. Mir Ranjan Negi, presented Inspirational One Act Play : Gloom to Glory
Dr. Anil Awachat, Chief Initiator, Muktangan – Pune Based Leading De- addiction centre
Dr. Deepak Sarda,  President Pune Cycle Pratishthan
Mr. Sameer Dharmadhikhari – Renowned Model & Actor
and Dr. Sanjay Chordiya enlighten the students on this occasion
Dr. Sarvapalli Radhakrishnan, Teacher par excellence, whose birthday September 5, is commemorated by the Nation as Teachers Day, assumes special significance at Suryadatta. This year, Suryadatta came out with concept of celebrating Teachers Week as we felt it is more important to guide, and groom students by imparting value based education, and moreover, inculcating social spirit / responsibility amongst them, to make them a complete human being. If students are trained / taught art of living and they have social spirit inculcated in them, they can remain away from bad habits. In view of this we celebrated a week long program by inviting four exceptional individuals from different fields of life, who shared their respective experiences to the students of the institute.

This unique message was propagated, during this week long celebration at Suryadatta. Suryadatta celebrated the Teachers' week in a unique way The guests were Mumbai Dabbawalas, Mr. Mir Ranjan Negi, Dr. Rajendra Singh ji, Dr. Anil Achawat, Dr. Deepak Shikarpur, Dr. Prakash Dhayarkar etc..According to them life is the biggest teacher and you learn the best from your personal life experiences. Day Wise Activities and students learning's are given below

Day 1 : Dr. Prakash Dhayarkar, spoke on the topic of Memory Development & Psycho Neurobics. Students found it very interesting and beneficial for their studies. Suryadatta is also introducing short duration courses in this field, and has specially set up a neurobics lab for the same in the campus.

Day 2 : Mumbai Dabbawalas, who are world famous for their food supply network, shared their 'six sigma' standard of delivering Tiffin boxes across Mumbai with the students and the faculty members of the institute. Mr. Raghunath Medge, President of Nutan Mumbai Tiffin Box Suppliers Charity Trust (NMTBSA) and Mr. Gangaram Talekar, General Secretary of NMTBSA presented their unique and error free method of carrying out their supply chain of Tiffin. The Dabbawalas shared their secret of delivering 2 lakh dabbas on time with an accuracy rate of 99.99% with 100% customer satisfaction. This is the perfect example of excellent supply chain and logistics management. Mr. Raghunah Medge, President of NMTBSA said, "Coming to Suryadatta campus gives us immense happiness as we get to share our practical knowledge to shape the next generation of managers."

Day 3 : Chak-De-India fame, Mir Ranjan Negi, former Goal keeper of Indian Hockey Team shared his real life experiences through a one act play – "Gloom to Glory" . The one act play was about Mr. Negi gracefully coming out of the wrong accusation for match fixing in a match with Pakistan during the 1982 Asian Games, by coaching the Indian female Hockey team. The team won the gold medal in the 1998 Asian Games, under the training and mentorship of Mir Ranjan Negi. He said "It was sheer love of the game and my mother's wish that made me take up the game with such gusto. Whenever, life takes a setback, it pushes me to try a lot harder to prove myself. The youth of today should take their lives ahead with equal hard work and passion and most important of all not let setbacks take a beating. Work extra hard and let your work speak for you".

Day 4 : Dr. Deepak Shikarpur : eminent IT expert, shared his views on the topic of global Opportunities in the Management & IT field for students of MBA, PGDM, MCA, M.Sc- Cs. Etc.. Dr Deepak put emphasis on the much needed essential quality of Multitasking. He also did mention that students should know minimum two languages, upgrade their IT skills, learn new modules on regular basis etc.. which will fetch them good employment opportunities. According to him, the Indian talent will fill up the global opportunities which are approaching very soon…

Day 5 : - Magsaysay award winner Dr. Rajendra Singh Ji, the "Waterman of India" visited the campus of Suryadatta Group of Institutes. Magsaysay award winner Dr. Rajendra Singh Ji was felicitated by Suryadatta Group of Institutes with the Suryadatta National Award 2012 for his pioneering work in water harvesting and water management. Dr. Rajendra Singh Ji, during his speech at Suryadatta, spoke about the importance of water conservation and how the youth of the nation can be of great help at saving the nation by conserving water. He said "Our country is facing severe problems due to lack of drinking water. This issue will snowball to a bigger problem if we do not take severe steps to resolve it. Each one of us has to understand the importance of protecting our environment by saving atleast a drop of water. Every initiative taken by each individual will contribute to the betterment of our society, our nation and the mother earth"

Tree Plantation was done at the hands of Dr. Rajendra Singh ji, and Suryadatta symbol ( statue / murale) was revealed on this occasion at his hands.

One of our student Mr. Sunil Tambe is " SARPANCH" of Khirdi Village. This village has won the President's Award for Best Village in Maharashtra for Rain Water Management, was felicitated on the occasion.

Day 6 : Dr. Anil Awachat, Chief Initiator of Pune Based leading De-addiction Centre ; Muktangan, who gave a moral session to the students on the lack of sensitivity towards the poor in our society and how the youth can help make the scenario better. Dr. Achawat said "The poor is getting poorer and the rich is getting richer. There should be a balance in the society".

Tree plantation was done at the hands of these celebrities at the campus.

Day 7 : Dr. Dilip Sarda, President, Pune Cycle Pratishthan, addressed students on a very lively topic on Mind & Body fitness through a program titled as " Get Set Go". The session was given an emphasis on How to improve the link between Mind and body, tips were shared with students on how to remain physically & mentally fit, and the importance of regular exercise to improve the functions of brain… Students found these sessions very informative and educative.

Day 8 : Mr. Sameer Dharmadhikari : Renowned model and actor shared his success story with our budding mangers. He also unveiled the secret of his success in the field : i.e. Confidence and language proficiency. His success mantra is ' Enjoy your job". Being academically qualified as Engineer, Sameer shifted his professional career on the track of modeling and subsequently in acting..And with his live story, he shared brief guidelines with the students for effective transformation of one career path into another emerging sector.. It was an eye opening session for students. He further added that student must take part in minimum one or two co-curricular / extra curricular activity which Suryadatta is already conducting; would certainly be beneficial in their personal and professional life..

Chairman of Suryadatta Group of Institutes, Prof. Dr. Sanjay B Chordiya, said "We are obliged to have these great personalities in our institute and pass on their knowledge to these budding managers. I am sure that these days were a great learning for our students present here."

The celebratory week concluded with the felicitation of the faculty at Suryadatta Group of Institutes, and a Gala cultural program performed by students. Ganesh Vandana offered by a energetic group of students was the attraction of this program.

These inspirational sessions were attended by 750 students of Suryadatta Group of Institutes.