Suryadatta Institute announces scholarship for 100 working professionals for higher education for academic year 2016-17
For last 6 years Suryadatta Group Of Institutes is consistently giving away scholarships to working professionals to encourage them for enhancing their academic qualification and there by opening the gates for career growth. So far more than such 400 working employees of corporate world are benefitted by availing the scholarships worth Rs.of 20 lakhs. This year also Suryadatta has announced scholarships ranging from 50% to 100% of the total fees for P.G. courses for 100 employees nominated by the H.R. / Administration department of their companies. The scholarship will be awarded on first come first served basis. Scholarship to working professional is a part of Suryadatta's Industry Interface initiative which further Cement the bonding between industries & Suryadatta Institutes.
Dr. Sanjay B Chordiya explained that the institute has appealed to all the companies to nominate their employees for various courses of S.P. University of Pune such as PGDFT, PGDMM, PGDIB, PGFMLM & PGDFS ( all 1 yr part time). All such nominated employees will get 50% scholarship of the course fees & in case of economically challenged employees the same will be 100%. The timing of the courses are in the evening & flexible to suit the requirement of the working employees. However the teaching staff will be available for the full day for guidance, doubt clearance etc. The full assistance for project internship, study notes by email, career guidance are regular feature of there study programs.
Dr. Sanjay B Chordiya has emphasized that knowledge & skills are the step towards innovation which is the call of the day. The scholarship scheme will encourage the working professionals from different sectors and different background such as, materials, production, finance, H.R., Import & export, Marketing etc. To explore better avenues of the career & be the asset their organization through better performance.
Suryadatta Institute of Management Information Research is located centrally in Pune ( Sadashiv Peth) & therefore it will be easy to have access from any place to the study center. This Campus is having world class infrastructure including WIFI facility, well equipped computer lab, devoted faculty, huge library and will also give a exposure to various events, participation in seminar, Workshop & conferences. So far executive from Companies like Tata Yazaki, Novartis, IDBI Bank, ZF Steering Ltd , Hindustan Coca Cola, Sandvik Co., Cipla , Kirloskar Chillers, Maersk Pvt. Ltd., Chougule Pvt. Ltd., Sahaj Infotech,Bharat Forge ltd, etc. have nominated their workforce for qualification enhancement & the employee who exploited the benefits of Suryadatta'S Scholarship scheme are immensely satisfied since their purpose of gaining additional educational qualification is fulfilled & objective of going up in organization hierarchy is achieved.
The Vision of Suryadatta is to be a world class Centre of Excellence in Learning and Innovation and this is a step ahead in this direction, said Dr. Chordiya.
---
Women Empowerment is the need of the hour : Dr. Chordiya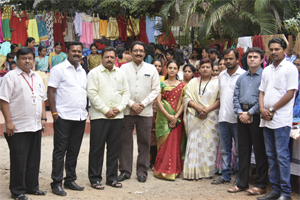 We are moving in the 21st century. Equality of men and women are the culture in our country. Because of this the empowerment of women is the need of the hour. That was their sincere efforts to empower women in the family and training fashion designing with subject, the Group of Suryadatta Institute founder and President Dr. Sanjay choradiya said today.
On behalf of the Group of the Suryadatta Institute and Rushikesh Sutar, Chandrakant Gogavale, Jyoti Konde had organized a month of training in fashion designing for women and girls from economically backward families. Fashion design training imparted to over 160 women, as a part of Suryadatta edu-socio initiative (women empowerment) Dr. Chordiya said. The MNS Pune City President Hemant Sambhus, Jyoti Konde and Chandrakant Gogawale, Rushikesh Sutar, Prof. Fulchand Chate and Coach Kalpana Shinde were present on this occasion.
Economically backward women and girls have got the confidence through this training. In this field of Apparel and Garment stitching or fashion designing, 100 designs of jewelry designing, jam and jelly making, making of 36 types of spices, spoken English (for auto rickshaw drivers, railway cools) Baking classes, IT classes for senior citizens. Although the need for education and skills along with the knowledge and practical educated person in today's world. If a woman is competent then she is able to do her family competent. 'The institutions and faith Suryadatta Institute and Rushikesh Sutar, Chandrakant Gogawale, Jyoti Konde was taken jointly training classes of fashion Designing', the Dr. Chordiya said.
These activities will strengthen women's financial strength. Suryadatta Institute has always implemented these kinds of activities. That is appreciating. From these activities women's can definitely lead to 'ache din', Said Hemant Shambhus. 'Recognizing the need for society to this initiative. The best way for women's economic empowerment', said Prof.Fulchand Chate. Rushikesh Sutar and Chandrakant Gogawale express their thoughts on this occasion. The program was anchored by Jyoti Konde
---
Suryadatta sculpts better Human Beings through humanitarian deeds;' through Edu-Socio-Connect program says- Mr. Dhiraj Ghate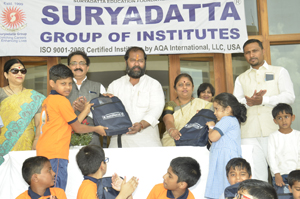 Through his nobles actions Dr. Sanjay B. Chordiya, Founder, Presidents & Chairman of Suryadatta Group of Institutes, who is believer of "Education to All", always shows the way to follow his footsteps and inspires to outreach the needy deserving people of the society.
This year Dr. Sanjay B. Chordiya and his daughter Dr. Kimya Chordiya's Birthday was celebrated in a unique manner on the very opening day of the School and Junior College; 16th June 2016, by distributing school bags containing 10 Note Books & a compass box to 200 needy students from draught affected areas of Maharashtra. The generosity was executed through the students of Suryadatta National School, Bavdhan. (CBSE Affiliated).
The very purpose of doing so is while extending the help, the young minds also should learn a lesson & emulate it when they are capable to do so. This indeed is a 'Sanskar'; the Enculturation, which will be imbibed by the young generation of India.
Apparently the gesture may be monetarily evaluated as a small step but philosophically it is a step of 'Vamna', covering the entire universe. It is the squirrel's help to Lord Rama in building the bridge across the ocean.
On this occasion, Shri Dhiraj Ghate, President of Sane Guruji Mandal, who was the chief guest recalled how he is associated with Dr. Chordiya's Social work since the inception of Suryadatta Group of Institutes. He recalled that Suraydatta was pioneer in starting IT classes for the students in 1999 when the technology was new. He also said that at that time stalwarts like Mr. Nitin Gadkari and Mr. Manohar Parrikar had praised the social initiatives taken by Suryadatta Group of Institutes. Mr. Dhiraj Ghate emphasized that this is not an event but a moment which will continue in the draught situation in Maharashtra is totally eradicated.
He further elaborated that to commemorate the 125th Birth Anniversary of Dr. Babasaheb Ambedkar, the key creator of Indian Constitution it was pledged to reach and help 1,25,000 economically challenged students, belonging to farmers families from the draught affected areas of Latur, Beed, Vidarbha, Marathwada, to complete their education by providing them notebooks, school bags, stationary etc. which is their day to day requirement for the study purpose. He announced proudly that so far study material of worth Rs. 25,00,000/- has been collected and in the month of July it will be given to the above category students at the hands of honorable Chief Minister of Maharashtra, Shri Devendra Fadanvis.
Mr. Dhiraj Ghate cited few of his experiences of how students have stopped the celebrations of their birthdays or young generation stopped unwanted undesired expenditure of their marriage celebration and donated that part of sum for helping the draught affected students. After listening to such stories many students and teachers from Suryadatta vowed that they too will celebrate their special occasions by donating for such noble cause. Dr. Sanjay. B. Chordiya appealed that each organization and its members should extend help to best of their capacity for economically challenged and needy students. This will help to reduce the imbalance among the students belonging to different strata of the society. Dr. Kimaya Chordiya (M.D.) expressed her feelings by saying that celebrating the birthday in such manner has given her inner satisfaction and sense of belonging to the down trodden part of the society. She says that this is her art of living. Earlier in Dec 2015 Dr. S.B.Chordiya has motivated the student of Suryadatta Group of Institutes to collect food grains for the draught affected the farmer families of Maharashtra. The Collected Grains were sent to the needy, rural pockets of the Maharashtra through the Gram Panchayat members of Bavdhan. Dr. Sanjay. B. Chordiya propagates, "It is essential to build better character in students to make them better Human Beings and thus to transform our future young aspirators into efficient and effective Managers, Leaders & Entrepreneurs".
Dr. Sanjay B. Chordiya gave oath to his students by saying to draught affected students,
" I learn, you also should learn" "I have, u also should have" "I Deserve, u also should deserve"
For his humanitarian deeds executed through students of Suryadatta Group of Institutes, we must salute the idea & Intention of such activities and say, "Chordiya Sir your institute is right place to sculpt out perfect Human Beings who will be the bright future of this country."