Suryadattas first ever WREADATHON 2011 completes 24 hours with huge response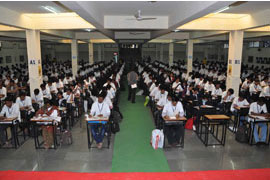 Overwhelmed by the response Mr. VVR Murty of Limca Book of Records declares to add event in 2012 edition of Limca Book of Records 'Suryadatta 24 hours Silent WREADATHON - 2011' is a concerted effort to develop concentrated reading skills, stretch optimum level of one's mental, spiritual and physical ability and boost up creativity and research capabilities

24 hrs Reading, Writing, Learning, thinking, observing silence, for enlightenment, generation of new ideas, innovation and research. The participants maintained complete silence throughout their participation.
Time WREADATHON 2011: 19th November, 2011 9:00 a.m. to 20th November, 2011 9:00 a.m.
Limca Book of Records had endorsed this event, and their representative Mr. VVR Murty was present throughout this event to observe and monitor the entire event.
from 670 participants , 235 Participants stood till last ( i.e. for 24 Hours approx 50 females + 185 Males),from 18 Foreigners 2 girls stood till last, & Prize ceremony done with round of applause Winner Mr.Yogesh Chandre won the Prize of Rs. 10,000 on the basis of whatever material given to him by Suryadatta , he completed that successfully & got the winning position . Participants were from all Maharashtra,
Mr. V V R Murthy Marketing Manager, Limca Book of Records declared the following names ... at 9.40 am on 20th Nov 2011 for 24 Hours Silent Wreadathon 2011 held at Suryadatta Chandani Chowk Campus, Pune
Winner - Yogesh Chandre
1st Runner up : Arun Gurule
2nd Runner up : Harish Mane
3rd Runner Up : Mr Pavan Kumar Nelluri
4th Runner UP : MR. Swapnil Pote
The WREADATHON was inaugurated at the hands of Dr Niranjan Pandya, President of Poona Blind Men's association in the presence of Founder President and Chairman, Prof. Dr. Sanjay Chordiya of Suryadatta Group of Institutes.
670 participants from across the state, registered for this event which included 200 Suryadatta students, 200 other students and 270 professionals. Among them also were many foreign Nationals and few physically challenged participants. Entire event was monitored through 24 hours CC TV camera. Prof. Dr. Sanjay B. Chordiya, Founder president and Chairman of Suryadatta Group was personally present for 24 Hours for overall monitoring and smooth execution of the event. Management Team Comprising of Prof. N.C.Sethia, Mrs. Prema Mangudkar, Brig. (Retd.) V.S.Toley, MRs. Pallavi Lohokare and 60 volunteers worked for 24 hours at the venue. Mr. Kishan Sharma, a renowned comperer, did the compering of the event for non stop 24 hours.

During the breaks taken at regular intervals as per schedule, there were guidance sessions by experts from various fields for 15 minutes. This enhanced the participants' eagerness and energy to read, write, learn and think during the WREADATHON- 2011'. Suryadatta Group of Institutes conducted first ever 'Suryadatta 24 hours Silent WREADATHON -2011' where participants befriended books and took a break from mobiles and laptops. In today's 'e-world' people hardly get time to read books, write, learn and for thinking. Due to fast paced lifestyle and deluge of information from various sources, the attention span of today's youth has drastically gone down. 'Suryadatta 24 hours Silent WREADATHON - 2011 ' is an earnest attempt to take the youth towards age old proven techniques for knowledge enhancement by reading, writing, thinking, reviewing and researching. Routine reading expands our mind powers indefinitely.


According to our Founder President and Chairman, Prof. Dr. Sanjay Chordiya, "'Suryadatta 24 hours Silent WREADATHON -2011' is not just an unique project but should be a way of life. 'Mounwrata' or maintaining silence helps us to conserve latent energy which can be channelized for enhancing one's overall knowledge base and personality".
The participants were provided with selected novels, biographies, study books, research papers, etc.
They also brought their own books, textbooks, novels, national or international journals or some decent reading material. They also wrote poems, draw sketches, research papers and case studies, preparation of checklists, Career Planning etc.
Among participant mainly there were students pursuing graduation, post graduation & above


The participants also wrote letters to their near and dear ones, etc as the culture of writing letters is extinct. To encourage this, Suryadatta provided post cards and envelopes duly affixed with postal stamps on it and made arrangements to post it on the same day itself. At the WREADATHON participants preferred reading Granth Dyaneshwari, Gurucharanmrut, biographies of Shri Shivaji Maharaj. Many also studied the competitive exam UPSC and MPSC books.

Record of time-in and time-out of participants was maintained at the venue by volunteers and the participants who follow all the rules and regulations of 'Suryadatta 24 hours Silent WREADATHON-2011 ' and those who participate for maximum hours, such first five participants will be felicitated at the end of the event. The winner, the 1st Runner-up, the 2nd Runner-up, the 3rd Runner-up and the 4th Runner-up won the prize of Rs 10,000, Rs 8,000, Rs 5,000, Rs 3,000 and Rs 2,000 respectively. The winners were also awarded with a certificate of excellence. There were also 5 consolation prizes awarded to participants.

During 'Suryadatta 24 hours Silent WREADATHON - 2011', arrangements for mineral water, tea, coffee, cold-drinks, snacks, lunch and dinner were made by Suryadatta Group of Institutes at no cost. First Aid Medical facility and a team of doctors were made available throughout the event. And refreshing arrangements were made available to all participants. To reduce the physical fatigue, the Institute has made different types of seating arrangements on Yoga mats, chairs with writing flap and benches in Swami Vivekananda Applied Research and Incubation Centre of 10,000 sq ft area which comfortably accommodated over 600 participants. A complimentary kit of stationary, T-shirts, library card, Time Card was given to each participant.


---
Unique Program on Patriotism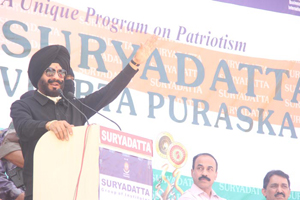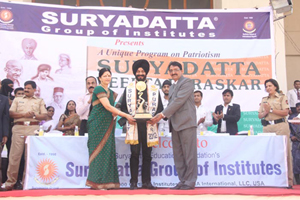 "A terrorist is just a terrorist. He does not have a religion"- M.S. Bitta, Chairman, All-India Anti Terrorist Front
'Suryadatta Veerata Puraskar 2012' conferred upon Hon'ble Shri M.S. Bitta, Chairman, All-India Anti Terrorist Front during an unique program on "Patriotism"
Suryadatta Group arranged an unique program on "Patriotism" - an Inspirational talk on "Patriotism and Fighting against terrorism" by Hon'ble Shri M.S. Bitta
Suryadatta felicitated the Veer Naari (war widows) and Veer Purush on this occasion
Members of faculty and students of the Suryadatta Group of Institutes performed unique theme based programmes on patriotism during this special programme
Day & Date: Saturday, March 17, 2012
Timings: 9.30 am to 12.30 pm at Suryadatta Group of Institutes' Bavdhan Campus
Prof. Dr. Sanjay B. Chordiya, Founder President & Chairman, Suryadatta Education Foundation feels that, "Spreading awareness against the menace of terrorism has become vital in today's context. Suryadatta is always on Forefront of giving such food for thought to young managers pursuing education at Suryadatta. This time also, Suryadatta has invited one such luminary who is a Champion of upholding justice with great resolve and will. During the opening speech, Dr. Chordiya said that today shri Bittaji will share his success stories and his thoughts on the topic of movement against terrorism amongst students & faculty members."

Hon'ble Shri M.S. Bitta, Chairman, All-India Anti Terrorist Front is a true source of inspiration. Bullets and bombs do not scare him, having survived two near fatal attempts on his life by terrorists. Only a soul of his resoluteness who has earned the name "Zinda Shaheed" could withstand such a tragic onslaught.

The program started by Hon'ble Shri M.S. Bitta showering rose petals on the statue of Chhatrapati Shivaji Maharaj and paying his tribute to the great leader.

In his inspiring address at Suryadatta Hon'ble Shri M.S. Bitta said, "When terrorists attack places like Mumbai or Pune, they know that attack on these cities can paralyse whole nation. Pune is the education hub while Mumbai is financial backbone of our country. People come to these cities from all over the country for education and for earning their bread and butter. Hence terror attack on these cities is an attack on whole nation"

He praised the young generation by saying that, "Youngsters today are definitely modern. They may prefer modern clothes or western music but that does not mean that they have forgotten rich heritage of their country. They have adapted the changes with the time but also respect their nation at the same time."

He also commented on the corrupt system in our country and how it is ruining the great sacrifice of our great freedom fighters. Mr Bitta feels that lack of policy makers will is the major obstacle in fight against the terrorism. He praised various leaders of our country such as Balasaheb Thackeray, Narendra Modi and Nitish Kumar for the remarkable work in their respective states.

Shri Bitta was overwhelmed by the honour conferred upon him by Suryadatta. He said, "Suryadatta is the only institute I have seen which is taking note of unsung heroes of the country. Everywhere I see people invite giant leaders for various functions but here at Suryadatta 'the Shaheeds' and their family is being honoured. I congratulate Suryadatta for their great work and request them to keep it up."

Mr Bitta answered to the question of Suryadatta student with lot of enthusiasm in an interactive Question and Answer session. At the end of the ceremony, Mr Bitta gave oath to be united for the battle against terrorism. The audiences present at the function were filled with pride and love for our beloved nation after taking the oath.

Veer Nari(War widows) felicitated at the occasion are; Rajeshwari Rane wife of Late Major R.R.Rane, Linata Tathwade wife of Late Major P.R.Tathawade, Laxmibai Dighe wife of Late Havaldar shri Pralhad Dighe, Savita Barkul wife of Late Havaldar shri Shankar barkul, and vaishali Gole wife of Col. P.B.Gole . Suryadatta also lend a helping hand by providing these Veer Naris with scholarship to their children for higher studies.

On the occasion, stalwart of Police department like Ms. Neelam Jadhav, Sr.Police Inspector, Bhanupratap Barge, Sr Police Inspector and Shri Rajendra Bhamre, Assistant commissioner of police (traffic) were also honoured.

All the recipients were overwhelmed while accepting this honour from Suryadatta. Veer Nari Linata Tathwade could not control her feelings while receiving the award. On behalf of all Veer Naris who accepted the honor today, she said that it is a true recognition of my husbands sacrifice for the country.

Mr Bhanupratap Barge, Sr Police Inspector also expresses on behalf of police officers who were honoured today and thanked Suryadatta for giving him and opportunity to meet his all time idol Shri M s Bitta.

Comperer for the event was Shri Kishan Sharma. This event was held at Suryadatta Institutes State of the art Bavdhan Campus" Suryabhavan". Students from different group institutes displayed the posters, poems, quotes of different freedom fighters and their posters etc.. Tri color were also laid at Suryabhavan. Shri Bittaji appreciated this complimentary ambience created at the campus on the occasion of special program on Patriotism.

In the afternoon session, a special entertainment musical eve of patriotic songs was arranged by Suryadatta group.


---
Suryadatta Education Foundations Wreadathon continues in 2012 as a 9 such Wreadathon in an Academic Year.. i.e. one per month that of 9 hour each..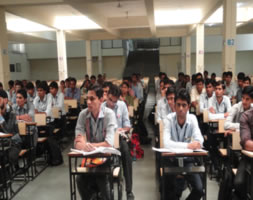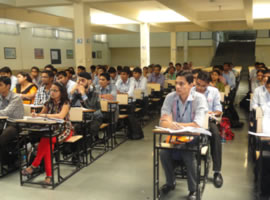 Centuries ago wise monks and Rushis meditated and lived in silence as they communicated with their inner selves and grew from strength to strength. With today's pressures and challenges in mind, the Suryadatta Education Foundation is giving their students an opportunity to de stress by staying away from all forms of communication – electronic and verbal, to introspect, create and grow. In the process, the Suryadatta Education Foundation is taking its role as a shaper of tomorrows citizens responsibly.

Prodded by the success of the 24 Hours Silent Wreadathon, 2011, endorsed by the prestigious Limca Book of Records, the Suradatta Education Foundation continues it in a different way this year.

The first of the series of 9 Wreadathon 2012, first session of "9 Hours Suryadatta Silent Wreadathon –Sept 2012" was held on 24th Sept, 2012. Essentially a competition for reading, writing, learning and observing silence for nine continuous hours, it aimed at generation of new ideas, innovation, research and worked towards student enlightenment. Open to students of SIMMC & SIBMTit was held from 9 am to 6 pm on September 24. Suryadatta Education Foundation has planned eight more Wreadathons (one each month) through this academic year.

Held as a holiday for laptops, mobile phones and a way to promote books, letter writing and meditation, it is an effort to promote reading skills, creativity and research capabilities besides boosting spiritual, mental and physical capacities.

Participants needed to be physically fit, 19 years old or more and willing to maintain silence throughout the Wreadathon. They were allowed to bring their own books to read and study, encouraged to write, make poems, draw or write research papers. A total of 200 including students & faculty members, researchers, businessmen, housewives, fellow scholars participated in the event.

To ensure that every participant was comfortable, seating arrangements such as yoga mats, chairs and benches were available at the venue. A certificate of participation was issued to all. Names of students who complete all the 9 hour Wreadathons this year will be sent to the Limca Book of Records for their consideration.

Suryadatta Education Foundation is a leading national name in the field of Education for 14 years. Along with formal education Suryadatta Education Foundation, trains its students in truly unique various social initiatives.
---