A group of Suryadatta students visited Goa for various industry visits.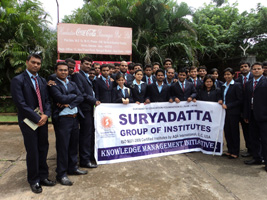 Pune University MBA & AICTE approved PGDM students travelled for 5 Days to Goa, for visiting industries from varied sector..



Extensive Industry Institute Interaction is the USP of Suryadatta Group of Institutes, since its inception.

We believe in giving practical exposure to our students by way of plethora of Industry Visits on a regular basis. Students visit and study carious kinds of industry and make a pithy report followed by presentation. They are given exposure to the functions of HRD, Manufacturing, Marketing, IT, finance, Import & Export, Custom Clearance, Materials Management and Logistics. One such comprehensive tour was recently planned for students pursuing PGD courses such as Pune University affiliated MBA, and AICTE approved PGDM. Industries planned to visit was comprising of various sectors such as Power Engineering, Manufacturing, Beverages, breweries etc..Details of the industries visited and learning of the student of each industry visit is as under :


Sr. No.
Name of the Industry
Activities of the Organization 
Students Learning
1
Pai Kane Group of Industries - Power India Engineering Company at Tuem Industrial Estate, Goa.
manufacturing of Generator Sets from 5KVA to 3000KVA capacity
Students visited two plants : Control Panel Manufacturing and Outer body manufacturing.
Students could physically observe the various processes such as blending , cutting, coloring, anti rust coating, control panels  etc
2
Hindustan Coca Cola Beverages Private Limited 
Beverages
Students could observe entire manufacturing process of Coca Cola.
3
United Breweries Limited – (Kingfisher)
Beverages Plant
Students were allowed to see the manufacturing process thoroughly. They could climb on the staircase (meant for the workers in the plant)  to see how the bottling is done and how the conveyors are run throughout the plant.
4
Titan Timeproducts Limited-
 
Head operations explained the entire manufacturing process to students and students visited the plant in two groups. One group went to the manufacturing unit for watch circuits and one group went to the engineering services.
Students could observe what is TPM and how it is implemented in industries.


Learning- It was good learning opportunity for students. Different type of industries ie bottling, Watch manufacturers, Generator sets manufacturing wherein students could see how it is manufactured. For students it was first experience to see such variety of industries. They were very enthusiastic in learning and asking questions regarding the process , marketing , market share, then how finance department works etc.

During the visit, students were given an opportunity for fun & entertainment and they could also enjoy the boat cruise. Students pursuing PG courses who visited Goa, were of mix academic background such as Science, Engineering, Management etc.. It was a real field experience to the students to observe, learn and know more about various business houses across Goa. Such experiences will certainly help them in long run to co-relate various management concepts learned in classroom to the practical world of businesses. And therefore, we keep on arranging such industry tours for students.
---